Utilise the discussion areas in Life QI to provide a social space for your project team and colleagues to come together and discuss all things QI related.
Posting in a discussion you are a member of
If you are already a member of a discussion you can post a message straight into the 'Write a message' text field that appears at the top of the discussion thread. Once you've written your comment, click the 'Post comment' button.
Not a member? Join the discussion to post
If you aren't yet a member of the discussion you will need to request to join the discussion. This can be done using the 'Join discussion' button that appears in the members section of the discussion page once you have opened the discussion. Once you are a member you will be able to post to the thread as described above.
To join a discussion
1. Click Discussions
2. Search for and click the discussion you would like to join
3. Click the Members panel on the right
4. Click Join Discussion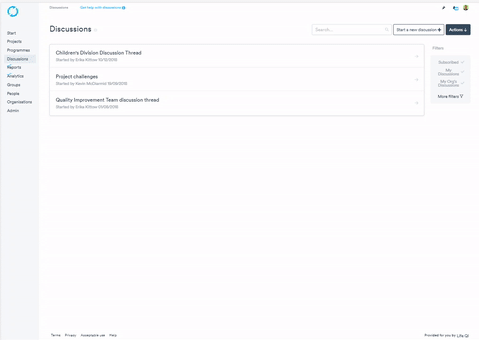 Uploading files
As well as posting free text comments in the discussion you can also upload files. To do this click on the ' Attach a file' button that appears beneath the 'Write a message' post field. A 'Choose' button will then appear which allows you to upload your file.