Use the system to create a social space for all your QI work. Start a discussion with colleagues to share knowledge, learn from best practice, ask for advice or share files.
Discussions are a great way of collaborating with team members, your organisation, and the wider LifeQI community. You can create discussions on any subject you want and invite who you want.
You can manage the privacy of your discussion so you can either share and engage the whole user community or just a defined set of members.
Setting your discussion's privacy to 'everyone can view' or even 'everyone can view and post' allows you to share the discussion with all members of the LifeQI platform. Alternatively for subjects that are only pertinent to a defined audience, you can set the privacy to 'only members can view'.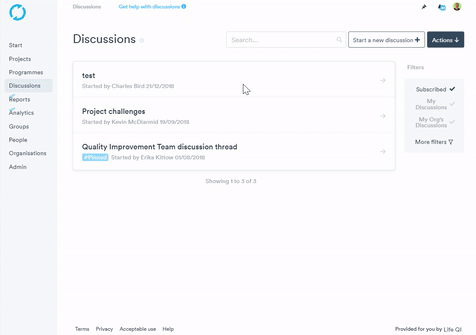 Discussions open to all users are great for when you want to share and discuss a general topic relevant to the wider community (for example, an event or a conversation about SPC analysis), or for when you want to reach beyond your organisation for advice. They are not for private conversations.
If you would like to discuss a more confidential subject this can be done in a closed discussion (by marking it for members only). Discussions that only members can view are private and can only be viewed by the members you add to the discussion.
They're ideal for more specialist conversations that are relevant to a select few people, or for topics that you wish to keep confidential.