Inviting your team to your Organisation is important for tracking all projects for analytic accuracy on your dashboards and reports.
This article covers:
Every user on Life QI must be a part of an Organisation. When a user is invited to Life QI, they must select their Organisation during the sign-up process. This is must be done no matter what area of the system they are invited to, such as a project, programme or group. When someone who is apart of an Organisation, creates a project, the Organisation will automatically add itself to the project. This means that this project will appear on any Dashboard or Report created, which will add to analytic accuracy.
You must be an Admin user on your organisation to invite others to join the organisation.
To add existing users to your Organisation:
From the Organisation page, click on the members panel.
Search for the user and then click their name.
Click the Invite button. The popup will automatically close and the invite has then been sent.
You can edit their permissions while waiting for them to accept the invite. Read more on 'changing team members' editing permissions'.
All your invited members will now be sent an invite email by the platform. Profile images will then be displayed on the 'General' page, and the members counts will be updated. Once they accept the invite you will be notified by email.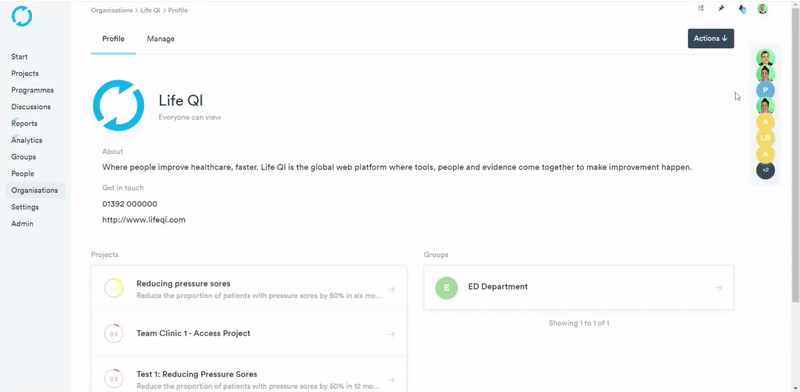 To invite people who don't have a Life QI account to join your Organisation:
Click the members panel on the right hand side of the page.
Click 'Invite new members' button that appears in the members panel.
A list of existing users will appear, at the bottom of that list you will see a 'Invite someone new to Life QI' button - click that.
Enter the email address of the person you wish to invite.
Click the 'Invite new user' button.
The popup will automatically close and the invite will be sent by email to the new user. The email they receive will guide them through the sign up process. Once they have signed up, any project they create will now have the Organisation automatically added.