We take the protection of user's personal data seriously by rigorously apply the principles of the GDPR to all our users data, no matter where you are based.
The GDPR is not the only personal data protection law of its kind, but is considered a 'gold standard' due to its wide scope of applicability and the severity of penalties for non-compliance.
What is GDPR?
The GDPR (General Data Protection Regulation) is a European Union Regulation that establishes a framework for handling and protecting the personal data of EU citizens, and defines the obligations on organisations who collect or process personal data.
What data does this affect in Life QI?
The GDPR applies to 'personal data' meaning any information relating to an identifiable person who can be directly or indirectly identified in particular by reference to an identifier.
Personal data stored by Life QI include things like user's names, work email addresses and job role. These data are required to create and maintain user accounts.
Is Life QI GDPR Compliant?
Trust is the foundation of our relationship with all our customers and users. We value the confidence you've put in us and take the responsibility of protecting your information seriously.
We are committed to the principles inherent in the GDPR, ensuring the security and protection of the personal information that we process and providing a compliant and consistent approach to data protection. More information can be found in our GDPR Compliance Statement.
How secure are your personal data?
As well as our own security features and processes, our infrastructure is backed by Amazon Web Services' (AWS) policies and procedures. AWS are widely accepted as world leaders in cloud computing and are compliant with major industry standards. You can read more about our security processes in our Security Overview.
Why GDPR?
We apply the same rigorous approach to data protection for all our customers and users, even if they are based outside of the EU. The GDPR is not the only law of its kind, but is considered a gold standard due to its wide scope of applicability and the severity of penalties for non-compliance.
Personal data privacy laws vary globally - in the US for example, there is not a federal privacy law applied to private industry (the Privacy Act of 1974 applies only to data collected by the US government). Some States have introduced their own legislation, the California Consumer Privacy Act (CCPA) being the most significant and most comparable to the high standards set by the GDPR.
The following table compares GDPR to several other prominent personal data protection legislation from around the world, and highlights our response to ensure compliance.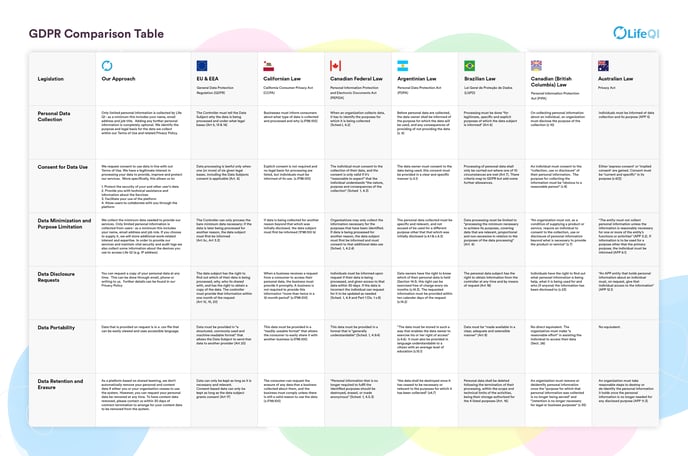 Disclaimer: This comparison is to be used as a guide only and is not legal advice. It provides background to help you understand how Life QI has addressed some important legal points in the various data privacy legislations. This legal information is not the same as legal advice so you should not rely on this paper as legal advice, nor as a recommendation of any particular legal understanding.