Been asked a to create a report of your project? You can now create, publish or export a PDF of your report for colleagues & managers to view easily.
There are a number of pre-defined report templates available which you can use to report on your project. Some templates are available to all users, and some will have been created by admin users at your organisation which they may have chosen to share with you.
The report templates available to all users include:
Detailed Project Report - this report extracts almost every field on your project into a formatted A4 portrait report, giving you a full breakdown of your project, from the General information right through to every chart on the project.
Overview Project Report - if you are looking for a short summary of what the project is about (General information and Driver Diagram) and the current status, this is the report for you.
You can find and run the reports available to you by following these simple steps:
Running a project report
Navigate to your project and open the General page.
Click the 'Actions' button near the top right corner of the page.
Click the 'Reports' button.
Click the report you would like to run.
A pop-up form will appear displaying the report with the project fields pre-populated and any data entry fields ready for you to complete.
Fill out any data entry fields which appear as grey text boxes. Click the 'Create report' button at the bottom of the form. This will create the report and save it into the 'Reports' area, which is accessible from the main menu. If the report is a featured report it will also be listed on your project's General page for ease of access.
Featured reports - these are key reports which as well as being saved into the Reports area are also listed on the project General page so you and others can easily access them.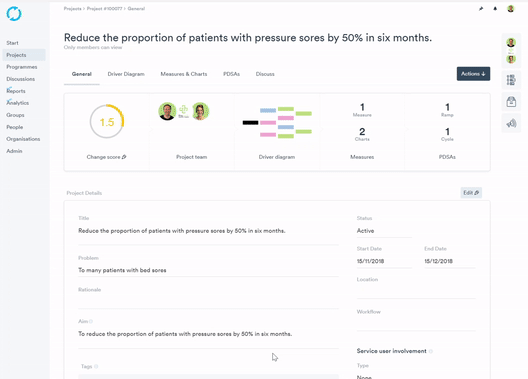 Making further changes to your report
If any further changes are required to the information you have entered you can click the 'Edit' button and make the changes and then click 'Save'.
Publishing your report
Once the report is complete it can be marked as published which will indicate to other people that it is complete and ready to be reviewed. To publish your report simply click the 'Publish' button in the top right corner of the report page.
Exporting your report as a PDF
1. Click the report that you would like to export.
2. Click Actions.
3. Click PDF.
4. Click OK at the Your PDF is ready to download message.
You will find the PDF you created in the Downloads folder.