If you are having problems logging into your Life QI account, there are a few potential solutions. You may be using the wrong email or typing the password incorrectly
Using the wrong email address
A common reason is that people accidentally sign up using their personal email and then try logging in with their work email (or vice versa).
Typing the password incorrectly
Check that you are typing your password correctly.
If you're copying and pasting the password, double check you aren't pasting in a space at the end of the password.
If you still cannot log in, you can try changing your password. To do this, select 'Forgotten your password?' on the Login page and follow the instructions. Your new password must be 9 alphanumeric characters with at least 1 uppercase, 1 lowercase, and 1 special character (@,£,%) or 1 number. Must not be the same as the current password.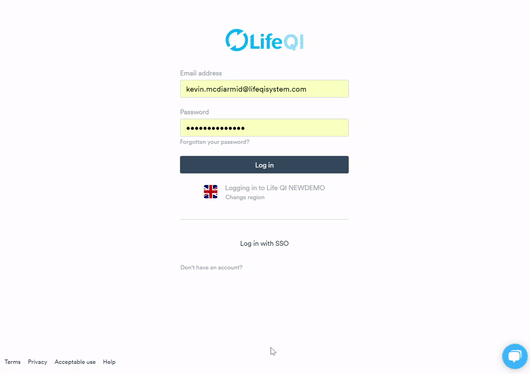 Awaiting verification
All accounts are manually verified by Admin users. This is a crucial security measure to ensure that individuals not eligible to use the platform don't gain access.
This verification process can take up to 36 hours.
However, if you need to gain access to Life QI urgently and/or have been waiting for longer than 36 hours, contact help@lifeqisystem.com and we will contact your Admin user(s) to look into your account.
Incomplete sign up
It is possible that you haven't yet successfully completed the sign up process.
This confusion most commonly arises when a person receives a project invite email from a colleague and assumes that they have been signed up by their colleague.
If you haven't completed the signup process you can create an account by entering your email address and clicking the 'Sign Up' button on the sign up page.
If you are unsure whether you have created an account or not, you can contact help@lifeqisystem.com.
Clicking an expired email link
Once you have applied for a Life QI account, any confirmation links in previous signup or project invite emails will no longer work.
This is when you will see the message "Sorry, this sign up has already been confirmed".
If you continue to have problems accessing your account, send an email to help@lifeqisystem.com and our team will get back to you as soon as possible.