Understanding Reports and how to run them
The Reports module is where 'run' reports are saved!
Reports are targeted at text outputs, like project details, lists of projects and outputs of driver diagrams and charts etc.
Reports are based on pre-defined report templates which are made available to users. Some templates are available to all users, and some will have been created by Admin users at your organisation which they may have chosen to share with you.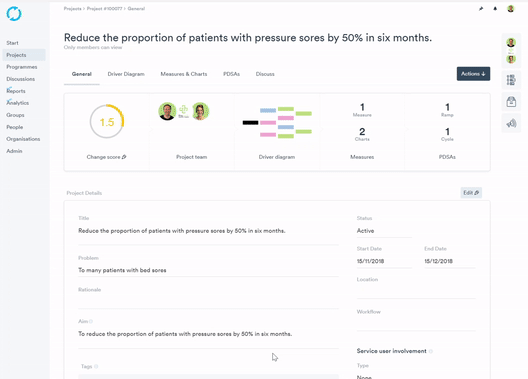 Reports are run from the area of the platform to which they relate (e.g. project General page, or the Projects list page) and are then saved and accessed from the Reports area.
Once a report has been 'run' users can continue to edit any text input sections before marking it as 'published'.
Reporting is separate to Analytics - read more about Analytics here
Admin users can create report templates and share them with your organisation(s) and group(s). This allows you to tailor reports to meet the requirements of your organisation/group, making it easy to deliver the right information to the right people.
Please note: Creating and sharing report templates is restricted to Admin users (those listed as having Admin permissions on an organisation).